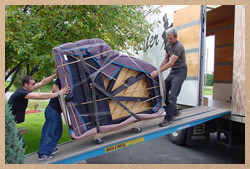 COMMENTS
"I was very pleased with all aspects of the move. It was excellent."
SPECIALTY MOVES
Mister Mover has been serving customers since 1968, and has successfully moved what the competition could not.
During our time in the moving business, we have consistently worked to develop the skills needed to move unique pieces in a proper manner. As a customer, you are provided with a highly trained and experienced team of movers. No job is too big or too small for Mister Mover.
You need an experienced mover to take care of specialty items such as:
pianos
safes and cabinets
medical and hospital equipment
copiers and printing equipment *
art, wine and other collectables
other unique or large objects
* We always recommend you contact your printer and copier supplier in order to find out if the equipment has any special requirements.
Contact Mister Mover today to arrange your specialty move consultation. (705) 566-2072