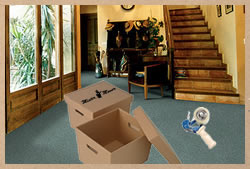 COMMENTS
"The service was excellent and courteous."
SELF PACKING
Here are some helpful tips to help ensure as little stress as possible on your moving day. Please note that movers cannot accept responsibility for articles of extraordinary value.
General:
Articles subject to freezing should not be shipped in the moving van over long distances.
Pack chests and cabinets as full as possible making sure breakables are well padded.
Dismantle and pack 'kit' (Ikea style) furniture.
Defrost and dry refrigerators and freezers. Do not plug in freezer after moving for 24 hours.
Try to use original shipping boxes for electronics if possible, or pack in boxes using foam padding.
Pack contents of desks separately.
Tie or tape shovels, rakes and hoes together. Drain hoses, coil and tie.
Dismantle outdoor furniture where possible. Place parts in bag and tape to furniture.
Packing:
Use clean white wrapping paper to pad and wrap your items.
Fill boxes completely. Don't overfill or under fill.
Don't pack fragile and heavy items in the same box.
Use smaller boxes for heavier items, and larger for lightweight or bulky items.
Clothing may be left in regular sized dresser drawers. Large dressers should be packed.
Do not pack articles above top of containers.
Label each box to identify contents and room. Tape top and bottom of cartons closed.
Pack phonograph records in upright position.
Pack heaviest items in bottom of carton, and lighter items closer to the top.
Fragile & Valuable:
Arrange to move currency, jewellery and valuable papers separately.
Grandfather clocks should be prepared for shipping by a jeweller.
Mark cartons 'Fragile' if breakable.
Small pictures may be wrapped in towels.
Remove shade and bulb from lamps, pack lamp shades separately. They may be packed in multiples. Mark cartons 'Fragile' and 'Lampshade'.
Glass, Mirrors & Wardrobes:
Mister Mover can pack these for you. Please notify our office in advance if you wish to have Wardrobe and Glass service, or have these cartons provided for use during your move.
Large pictures should be packed in picture cartons. Wrap and tape each picture or mirror and slide into carton. Label the box as 'Glass' and place on an end.
Kitchens:
Seal boxed food with masking tape if open.
Be sure lids are secure on containers and tape if necessary to seal.
Seal canisters with masking tape.
Have questions? Contact Mister Mover today. (705) 566-2072
1787 Lasalle Blvd., P.O. Box 2443, Station. A, Sudbury, Ont, P3A 4S8