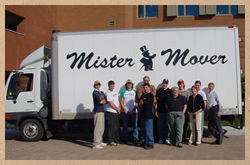 COMMENTS
"We are very impressed with how our move happened. Very professional workers. Thank you!"
HOME PAGE
Mister Mover is a locally owned and operated moving and storage company providing professional, reliable and experienced services in the Greater Sudbury area and throughout Ontario since 1968.
Mister Mover is a quality-focused family operated business. Our team adheres to quality standards put in place through decades of established service to our customers.
When it comes time for your move, we handle everything from:
proper handling, packing, and padding of furniture
all necessary dismantling and setting up
furniture placed how and where you want it
tagging and inventory of all goods to be placed in our storage
From residential moves to office and corporate relocations, our customers benefit from Mister Mover's commitment to providing professional services with a pledge to make your moving day as stress-free as possible. You'll see how our team comes together, and you will understand why thousands of residential and business customers have trusted their moves to Mister Mover.
No job is too small or too difficult. We specialize in moves such as:
medical and hospital equipment
upright and grand pianos
pool tables
safes, cabinets and collectables.

Contact us today for more information and to arrange your moving consultation. (705) 566-2072