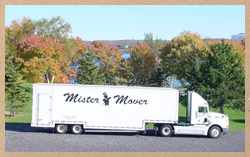 COMMENTS
"Very pleased with how our move was handled. We would definitely recommend Mr. Mover to our friends and family. Thank you so much!"
MOVING DAY
Planning your moving day is as important as the move itself. You should be present during the move, and ensure that driveways and walkways at both locations are cleared of obstacles (such as ice and snow in the winter). If you have any concerns, please let us know.
Parking arrangements should be made in advance to accommodate moving vehicles, In apartment buildings, please try to arrange the use of elevators during the entire move.
To make the move as smooth as possible we ask that you:
provide someone to be the lead contact person for the move;
carefully label and pack each box (see our Self Packing Tips for more details);
make arrangements to accommodate moving vehicles at both locations;
book times for exclusive use of elevators in apartment buildings; and
plan where items will be placed in the new location.
For commercial moves, please contact electronics suppliers for information on moving copiers, printers and advanced equipment.

For more information, contact Mister Mover today. (705) 566-2072